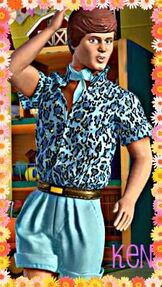 WARNING TOY STORY 3 SPOILERS
Ken has a variety of different outfits, including: spaceman suit, golden glitter suit and a dressing gown; but you usually see him wearing his blue leopard-print short sleeved shirt along with his blue shorts (with a golden belt) and a matching scarf.
He lived in his very own Dream House , which had everything he could ever need... that is except someone to share it with - luckily for him he met Barbie and it was love at first sight! Ken's dream house is located in the Butterfly Room at the Sunnyside daycare centre.
Ken enjoys to hang out and play poker with his friends: Sparks, Stretch, Chunk, Twitch and Big Baby in the snacks machine! He also loves to try on all his outfits and show off to his girlfriend, Barbie.
Ad blocker interference detected!
Wikia is a free-to-use site that makes money from advertising. We have a modified experience for viewers using ad blockers

Wikia is not accessible if you've made further modifications. Remove the custom ad blocker rule(s) and the page will load as expected.