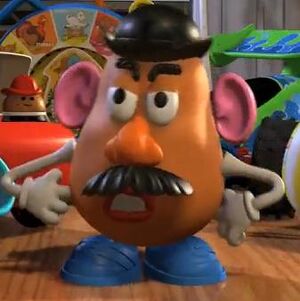 Mr Potato Head was a real toy before being in Toy Story.
The toy was invented and developed by George Lerner in 1949. It has many costumes, including Darth Vader (called Darth Tater), Iron Man/Tony Stark (Tony Starch) and Indiana Jones (Taters of the lost ark)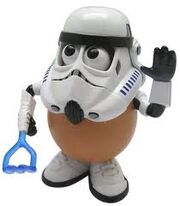 In the films, Mr Potato Head's parts kept falling off. He saved the 3 Aliens' lives in Toy Story 2, and in return, they are eternally grateful.
WARNING TOY STORY 3 SPOILERS
When the toys went into the Trash compactor, they almost got burnt, but the 3 aliens saved all their lives. In return Mr and Mrs Potato Head are eternally grateful.
Ad blocker interference detected!
Wikia is a free-to-use site that makes money from advertising. We have a modified experience for viewers using ad blockers

Wikia is not accessible if you've made further modifications. Remove the custom ad blocker rule(s) and the page will load as expected.